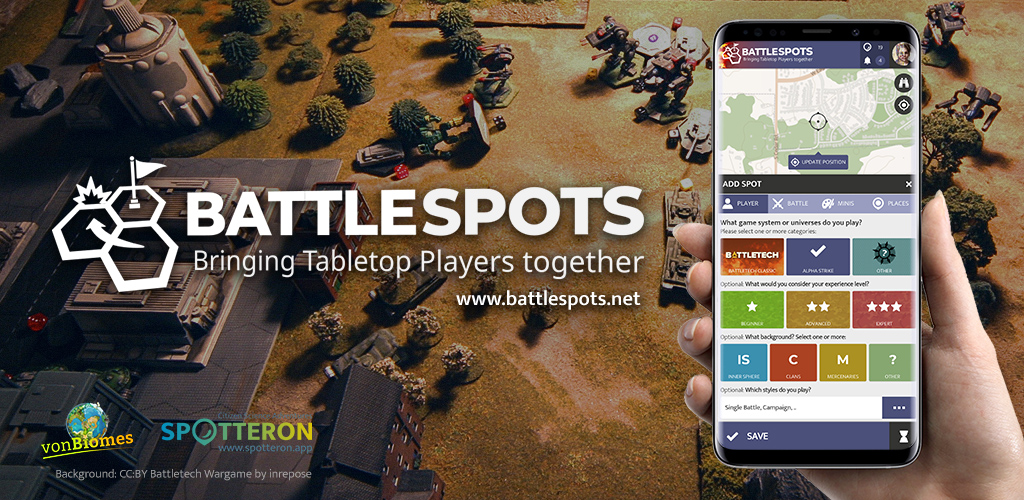 Welcome to the BattleSpots App
for Tabletop Players and Gamers like yourself!
The BattleSpots App for Android & IOS is a non-commercial tool to put yourself as a Tabletop player on the world map. You can contact others simply via @username in comments and get together, either in your home area or on travels. The App further allows posting miniature painting timelines and mapping local places like stores or gaming locations related to Battletech, Alpha Strike, and other Tabletop/RPG games.
---
Get the BattleSpots App here for your device:
---
It is 100% free, no ads, no user tracking, and fully non commercial.

Please help by telling your Tabletop and BattleTech friends,too
and please share the link to this page on your Social Media, thank you!

- Jonathan vonSeiten

Got Feedback or want to connect? Join the Discord here: vonSeiten / BattleSpots on Discord


BattleSpots Gallery: some views from the App!
BattleSpots for Apple:
Install from Apple App Store
|
BattleSpots for Android:
Install from Google Play
---
More information on the BattleSpots App
We have created this App as a fan project to help the community enjoy BattleTech, Alpha Strike, and similar Tabletop games in a better way and to find friends to play with. The App allows players of Tabletop games to put markers on the map and find other people in their area.

A whole social community enables you to get in contact via a comment at each entry. You can tag other Tabletop players in the App by writing @username, and the other person is instantly informed of your comment via push notification and can get back to you. Other community functions are ready for you and your activity. Download the BattleSpots App and join us!

Secondly, the App allows the recording and documentation of ongoing battle sessions with photographs, turn counter, and battle values. With these Battle Reports, you can create a diary of your BattleTech, Alpha Strike, or other wargames like Warhammer - either turn by turn or share fantastic moments with the community. You can also post your 3D printed or painted miniatures in the App to show to others in the "Minis" section and talk about miniature painting, kitbashing, and 3d printing of figurines - from BattleTech to Warhammer or other miniature and tabletop games.

For local game stores, Tabletop conventions, boardgame cafes or bars, and other local places, the "Places" section stand ready to create a geographical database of shops, events, and other tabletop games, roleplaying games (RPG) and boardgame related locations. Map your neighborhood for everyone to explore and discover.

The App is non-commercial, and there is no user tracking, ads, or user monetarization. It is simply from us at SPOTTERON and vonSeiten (MW5 Modder, Artist) for you, the amazing Battletech and TableTop community!

Welcome to BattleSpots!

Open up the Map in your Browser!
---
BattleSpots is a project running on the Citizen Science platform
SPOTTERON